Ways That Heavy Rain Can Lead to Water Damage | SERVPRO® of Northeast Greenville County
5/7/2020 (Permalink)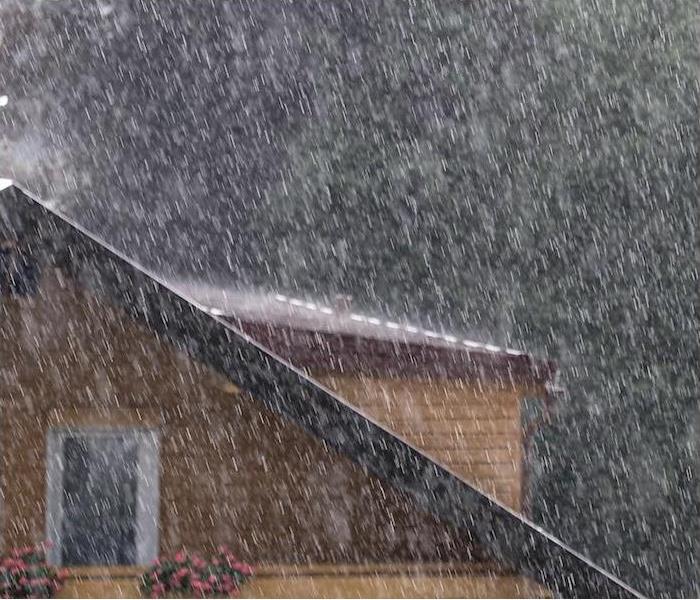 Heavy rains can cause serious water damage. SERVPRO of Northeast Greenville County has the trained technicians to fully restore your home.
There are so many ways that excess moisture can lead to water damage, with many of them being far less dramatic than you might realize.
For example, heavy rains are one of the most common causes of water damage, and the damage they cause can happen gradually over time. Knowing where to look for these types of damages can help homeowners protect against them and avoid the headache that these types of leaks can cause.
How Water Damage Is a Result of Heavy Rain
Backup of clogged gutters. A twice-annual gutter cleaning is more than just a household task that is nice to do—it can be a great method for water damage prevention. If rainfall is heavy and overwhelms your gutters, it can lead to pools of water that seep into your home and begin to damage the wood around your roofline.
Leaks around windows and doors. Microscopic cracks around your windows and doors may not be immediately visible, but steady rain can work its way into them. These small gaps can easily be sealed with caulk or weatherstripping, both extremely effective methods of water damage prevention.
Poor drainage around the foundation. Standing water around the home can lead to serious damage to the foundation, even if your foundation is made of brick or cinder blocks. Proper drainage via pipes or landscaping can go a long way in ensuring this doesn't happen.
Leaks in and around the roof. A roof leak will often not be noticed until it begins to cause discoloration on the ceiling, which means damage has already occurred. Checking the exterior of the roof can help you prevent this, as missing or loose shingles are a clear sign that something is amiss.
Malfunctioning of a sump pump system. It is always recommended to install a sump pump in low-lying areas of your home, but the maintenance is just as important as having one. Pump malfunctions can quickly cause severe leaks in your basement or crawlspace.
Leaks around chimneys and skylights. Any time something intersects with the roof, the possibility of a leak is heightened. Skylights and chimneys are no exception, and it is advised to check their seals regularly to ensure water cannot work its way in.
If you've experienced water damage to your home, we are here to help. You can call us 24⁄7 to have our trained technicians respond quickly and begin your restoration.